Welcome to Al-Amira's Website
This is my first step to participate in the world of Internet. I am still a school student doing grade 9 and I was born in 1983. I am from Sultanate of Oman and live in Rumais. My English is not good enough that allows me to make a good homepage yet. But I am getting some help from my older brother,
Humaid Al-Balushi
, who already got two homepages hanging on the net. His homepages are
"The Golden Palace"
and
" A Minimized World "
.I promise you that I will make a very good homepage very soon insha Allah. Just give me sometime and give me some support and you will like everything I add to my homepage. I am not sure what kind of information I am going to add to my homepage but I can surprise you with some magic soon. History is very important and we all must care about it and therefore I am going to feed your brains with the following points for today. Have fun and come back soon.
Have a look at the following baby dancing Makarena, but don't laugh please.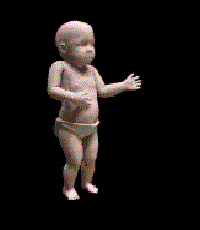 Please sign my Guestbook and tell me for my first step to this world.
Sign My Guestbook

View My Guestbook
---
You are visitor number